The Captain's Corner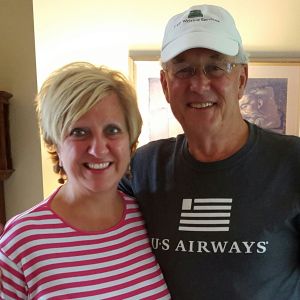 In my previous post from "The Captain's Corner," I discussed the similarities between the Flight Operations Manual (FOM) and the Bible, God's Word to us. As flight crews we were governed by FOM procedures in order to operate the airline safely and efficiently. We memorized some of the procedures; others were easily available; all required knowledge of where to look quickly in the manual for guidance. Just as the FOM helped us to operate the airline, God's Word to us helps us live as children of God by faith in the Lord Jesus Christ as our personal Savior.
Thankfully, the Bible is complete and sufficient.
"According as his divine power hath given unto us all things that pertain unto life and godliness,
through the knowledge of him that hath called us to glory and virtue:
whereby are given unto us exceeding great and precious promises…" (2 Peter 1:3–4). 
God's all-sufficient "great and precious promises" are His Word, by which we gain knowledge of Him and learn how to live godly lives in an ungodly world.
How did we study the FOM? We read it, re-read it, and read it again! So what should we do with God's Word?
Read it.
Have a regular time for Bible reading. Various Bible-reading schedules are available online or through your local church. I have personally used a schedule that allows me to read through the Bible each year. Take as much time as you need or as much time as you have available each day for this important exercise of reading God's Word.
Re-read it.
Early on, back when I was in college, I would read five Psalms each day. In a thirty-day month, you can read all of the Psalms! Reading the Psalms helped me to worship and praise God. That is why I have continued to read this book over and over again through the years.
Retrieve it.
Scripture memorization takes effort, but it is an effort that is well worth it. Taking the time to memorize God's Word equips us to more readily fight the battle against sin when temptations arise.
"Wherewithal shall a young man cleanse his way? by taking heed thereto according to thy word.
With my whole heart have I sought thee: O let me not wander from thy commandments.
Thy word have I hid in mine heart, that I might not sin against thee" (Psalm 119:9–11).
Rely on it.
In a thirty-one-day month, you can read one chapter of the book of Proverbs each day. Proverbs is powerfully practical with precepts for daily living. These "wisdom topics" provide guidance for earthly relationships.
Research it.
As you read the Bible, you will find various ways to study: topical studies, word studies, book studies, biographical (character) studies, etc. A well-known preacher, Clarence McCartney, would preach sermon series on unique subjects, such as "Great Questions of the Bible," "Great Mountains of the Bible," and "Great Men/Women of the Bible," and these would make great topics for personal Bible study as well.
As you study your Bible, find a good translation and stick with it. You may want to reference other translations to help you in your understanding of difficult words or unfamiliar passages. A site such as BibleGateway.com will allow you to simultaneously reference several translations to assist you as you study. Additionally, Bible commentaries abound—many of them online. These are good reference tools, but they should never be used in place of—or with a higher priority than—reading God's Word itself.
Just as the Flight Operations Manual assisted each member of the crew with the essential elements necessary for operating the airplane (and the airline as a company), we should view the light and lamp of God's Word (see Psalm 119:105) as an essential daily element for all that pertains to "life and godliness."
_______________________________________
Joe Henderson, Brenda's husband, is a retired international airline captain and now blogs in
"The Captain's Corner" on a regular basis.
Would you like to receive these posts in your Inbox? We won't spam you!
You will only receive e-mails from us when a new post appears on the blog. Click here to subscribe.