The Captain's Corner
On my bookshelf is a large three-ring binder titled Flight Operations Manual (FOM). It's about two-and-a-half inches thick, with subject tabs that cover topics such as emergency procedures, weather, passengers, baggage and cargo, maintenance, reports and forms, etc. The list is extensive. As a pilot, I had to know, memorize, or at least know where to find the information necessary to conduct the flight. I carried this manual with me while on duty, which included having it by my side in the cockpit.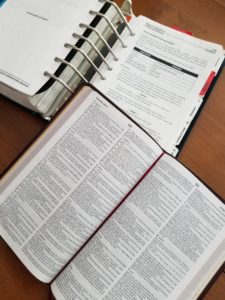 Thankfully, God has given us a similar "flight operations manual" in His written letter to us, the Bible. It contains the topics we need to know about (and apply) as we journey through life: the facts of creation, the sin of all humankind, God's plan of redemption through Christ, guidance for daily Christian living, etc.
Consider the promises of Scripture:
2 Timothy 3:16 (NKJV) – "All Scripture is given by inspiration of God, and is profitable for doctrine, for reproof, for correction, for instruction in righteousness." God's Word is valuable and sufficient!
Psalm 119:105 (KJV) – "Thy word is a lamp unto my feet, and a light unto my path." God's Word gives guidance and direction for our lives!
Just as it was important for me to know and study the FOM, it is supremely important to read and study God's matchless, unchanging Word to equip us for godly living.
_______________________________________
Joe Henderson, Brenda's husband, is a retired international airline captain and now blogs in "The Captain's Corner" on a regular basis.
Would you like to receive these posts in your Inbox? We won't spam you! You will only receive e-mails from us when a new post appears on the blog. Click here to subscribe.