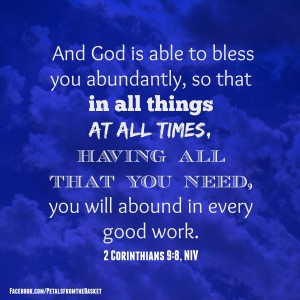 My "ideal Saturday" turned into a reality: HGTV magazine arrived in the mail; lifetime friend sent me a box of fall-fragrance candles; rain fell gently, creating an overcast softness outside; and God let me know that He was more than enough.
It's that last thought that I want you to remember today.
Whatever your circumstances…
Whatever your marital status…
Whatever your longings…
Whatever your physical needs…
Whatever your spiritual needs…
Whatever your emotional needs…
Whatever your financial needs…
Whatever it is that leaves you feeling incomplete…
Whatever your future holds…
…2 Corinthians 9:8 is true!
"And God is able to bless you abundantly, so that in all things at all times,
having all that you need, you will abound in every good work" (NIV).
Yes, precious faith-friend, God is more than enough!