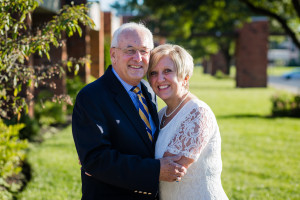 What does a newly married middle-aged (okay, fine…"senior") blogger blog about? The same thing she always has: biblical encouragement for everyday Christian life, because her own need for that hasn't changed, regardless of her marital status, so she figures yours hasn't changed either! (Now, enough talking about myself in third person!) And yes, I'll share a few wedding pictures now and then. (I've loved getting e-mails from several of you requesting a photo of two from the wedding!)
We enjoyed an elegant four-day stay at a cottage at the Cornerstone Inn in Nashville, IN (Brown County)—with more amenities than we could have even thought to have asked for—and followed that with six days in a cozy, conveniently yet privately located, well-equipped Eden Crest cabin in Pigeon Forge, TN. And now…now we get to do life together in our home in central Indiana. Joe and I continue to bask in the truth of Psalm 118:23: "This is the Lord's doing; it is marvelous in our eyes."
This is our first full week in our home, following our wedding on September 3. Attending special meetings at our church. Cleaning. Organizing. Embracing change. Transitioning. Learning. Loving more deeply each day.
All because of grace.
Yet my greatest desire is that God reign supreme not only in our home but in our hearts—individually and as a couple. Without Him, our work is useless. Without Him, our home is merely a house—a place to live. Without Him, we are on separate journeys.
He must be seen, reflected, and given first place, or our efforts will be in vain. Our outreach will be futile. Our giving merely selfish gestures for personal satisfaction.
Yet, with God as our personal and mutual focal point, our home can be a haven, our gifts and talents utilized for eternal purposes, our giving multiplied, our hearts more deeply united, and our love strengthened.
So it's a fresh, clean slate—a hope-filled time in which to receive His abundant grace—and to use it, demonstrate it, and share it for His glory!
"Help us, O God of our salvation, for the glory of Your name; and deliver us,
and provide atonement for our sins, for Your name's sake!" —Psalm 79:9, NKJV
_____________
Photo credit: Audrey Frank Photography (C) 2016