The baskets of our lives are filled with petals from work, family, special events, hobbies, and much more! I believe that each petal—even the wilted ones—can represent blessings that God gives us through each season of life. My desire is that as I open my heart and transparently share ideas and resources for everyday Christian living, I will be able to point to the fact that the baskets of our lives are lovingly woven with the Weaver's touch! 
Thank you for joining me on this journey!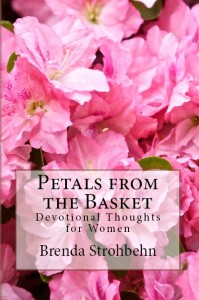 When I started my blog in 2012, I thought that it would be a short-term solution for sharing updates with my family and friends regarding my journey through a major life change. Gradually, the readership began to grow outside the sphere of that initial group, and the purpose, scope, and reach of the blog grew as well.
My new book, Petals from the Basket: Devotional Thoughts for Women, is comprised of some of the favorite devotional blog posts from this site. The posts are in no specific order, because life happens in that same way: we can't categorize everything into neat little compartments; and as much as we would like to, we don't always move forward.
Each devotional (52 in all) is followed by a few blank lines on which you may wish to write your own thoughts on the subject or to write out your own prayer of response. However, if you're a perfectionist like I am, you will feel the need to fill every line and to use perfectly shaped handwriting to do so. But I'm giving you permission to leave some (or all) of the lines blank and to simply use them if and when you wish to write in your own thoughts! If I've learned anything from writing these blog posts, it's that nothing is accomplished when it's merely done to "appear perfect." Without sincerity and the freedom to acknowledge our weaknesses, it's difficult to grow stronger.
So as you read through these devotionals, you'll see that I posted them at various times of the year, from different locations, and for different reasons. But my heart's desire is that the thoughts that point you to the unchanging, reliable, consistent truth of God's Word will encourage you, strengthen you, comfort you, teach you, and meet a need that you have at that given moment.
Thank you for walking this journey with me! [Click the cover photo to read more about the book and to order your copies!]
(I would be honored and grateful if you would share this post with your friends and family by using the "share" buttons below!)