The Captain's Corner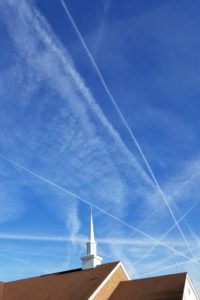 Last week, Brenda and I saw this spectacular display of contrails (short for "condensation trails"). Covering the winter-morning sky were several crisscrossing white vapor trails that extended great distances.
These "fingers in the sky" are formed when the water vapor from the jet engine exhaust of airplanes at high altitudes instantly freezes. These thin streams of vapor sometimes can extend for miles behind the airplane.
On a smaller scale, think of the visible water vapor formed by your breath on a cold day or from a car exhaust in cold weather. It's a very similar concept.
As I saw these contrails, I was quickly reminded of God's Word describing life as "a vapor that appears for a little while and then vanishes away" (James 4:14, NASB). Additionally, Proverbs 27:1 (NKJV) states: "Do not boast about tomorrow, for you do not know what a day may bring forth."
I encourage you today to take your focus off of that which "vanishes away." Instead, take a moment to pray the words of Psalm 90:12 (KJV): "So teach us to number our days, that we may apply our hearts unto wisdom."
________________________
Would you like to receive these posts in your Inbox? We won't spam you!
You will only receive e-mails from us when a new post appears on the blog. Click here to subscribe.