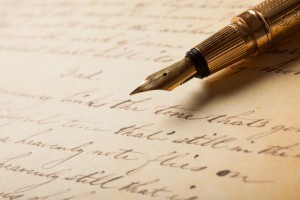 In my father's final months and weeks of life, it was extremely helpful to have a resource page from our hospice care notebook that listed several common "end stage" actions or symptoms that most people go through. These included things from a decrease in appetite to a lessening or a loss of physical sensation to "picking" at clothing or at the sheets on the bed. One of the end-of-life indicators listed was a "surge of energy," often called a "rally," when the individual will talk clearly, have a clearer mind, and in general, seem to have a change for the better. With any of these, the timing can vary between patients, lasting from minutes to days.
My father had a "rally" one evening, and in that time, in gentle, relaxed, clear, soft tones, he spoke words of wisdom, advice, comfort, and encouragement. One thing he stated with great clarity, and it seemed to be the theme for all else that he said that evening: "Sometimes we have been fearful; sometimes we have been angry; but God has always been faithful."
And from that moment forward, we claimed "the faithfulness of God" as the theme for his remaining days to his eventual passing away and then to the songs, verses, and messages given at his funeral. Because, after all, God is faithful!
Though I've long been a learner, that evening reminded me anew to glean wisdom and godly counsel from those who have walked and are walking their paths with hearts that seek, and therefore with lives that teach, God's wisdom.
So I'm making an exciting announcement today! 
I asked my dear mother, Lorraine, if she would be willing and available to answer your questions via a regular post on this blog. Sometimes you wish you could have an easily accessible mentor, and though most of us sincerely long to follow the Titus 2:3-5 principle of the older women teaching the younger women, life is busy, and a weekly commitment to meet with someone doesn't always work well in everyday life.
The "Ask Grandma" post will appear on a regular basis, and in it, Mom will answer your questions! Here's how it will work:
Send your questions (currently, we will accept any appropriate subject matter) to: Grandma@PetalsfromtheBasket.com
Within 24 hours, you will receive a reply, informing you that we received your e-mail.
For everyone's protection, we will only reply to genuine e-mails.
For everyone's protection, we will only reply to e-mails from a verifiable e-mail address.
For everyone's protection, we will only reply to e-mails with a real name used. (For example, "Help Me Grandma" is not a name; "Mary Smith" is—if your name is Mary Smith, that is!)
One letter will be chosen to be answered publicly in each "Ask Grandma" post. NO NAMES OR INITIALS WILL BE USED in the post. Your identity will remain confidential.*
So feel free to send a question for Grandma! The e-mail box is open!
Grandma@PetalsfromtheBasket.com
*Petals from the Basket, PetalsfromtheBasket.com, Brenda Strohbehn, and Lorraine Strohbehn accept no legal liability for the answers given in the "Ask Grandma" posts. We reserve the right to refuse inappropriate content and will deny access to false or contrived e-mail addresses. Additionally, should the e-mails we receive in conjunction with this site or this series of posts contain information regarding illegal activity or actions that would cause injury to the sender or to others, the required legal action and reporting will occur.
___________________________
Photo Credit: Minerva Studio, via Shutterstock.com