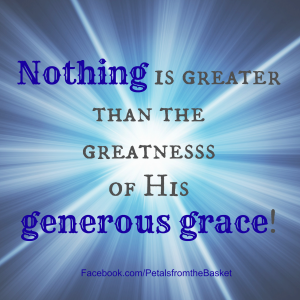 I'll be honest: my spiritual compass has been a little off track lately. Unfortunately, I allow it to do that too often. And sadly, I frequently make excuses, procrastinate, and become too distracted by things, people, and longings to fix it. Recently I said, "No more. I miss the sweet fellowship of just talking to my heavenly Father with no barriers between us."
And in His extravagant and uncommon grace, He held out His arms and said, "My Son, Jesus, already paid the consequences for your sin. Therefore, I never left you. I've been loving you the whole time. I forgive you. I'll guide you through this."
Because temptation and sin are daily battles for me—and let's be honest: for all of us!—it becomes a daily choice to "stay connected."
As part of my personal study and reading of the book of James, I read James 4:1-6 this morning. I never cease to be amazed by the fact that God's timing, even in our Bible reading, is perfect—truly perfect.
What is causing the quarrels and fights among you? Don't they come from the evil desires at war within you? You want what you don't have, so you scheme and kill to get it. You are jealous of what others have, but you can't get it, so you fight and wage war to take it away from them. Yet you don't have what you want because you don't ask God for it. And even when you ask, you don't get it because your motives are all wrong—you want only what will give you pleasure.
Don't you realize that friendship with the world makes you an enemy of God? I say it again: If you want to be a friend of the world, you make yourself an enemy of God. Do you think the Scriptures have no meaning? They say that God is passionate that the spirit he has placed within us should be faithful to him. And he gives grace generously. As the Scriptures say, God opposes the proud but gives grace to the humble.
—James 4:1-6 (NIV, emphasis mine)
The words that follow are the response I recorded in my personal God-and-I-Time journal today:
It seems to me that verse 2 is reminding me of how often I seek the wrong things, lose my focus, and, sadly, lose my way. But it ends with: "Yet you don't have what you want because you don't ask God for it." [And what I want is victory over all of this!] But later, in verse 6, it tells me clearly that there is more grace than there is temptation and sin!
The note in the Bible (which Daddy had underlined in red) reminds me: "The Spirit does not want us to have divided allegiance." Yet I am so easily pulled to want what I want—when I want it.
"But He giveth more grace…" [The NIV uses: "And He gives grace generously."]
…more grace than my undisciplined stewardship of my time and resources.
…more grace than my impatience—with others and with God's timing.
…more grace than my pride.
…more grace than I could ever be "perfect" enough to earn.
So today I claim that grace, and I find it to be generous…to be more! Because of His grace, He can, He did, and He will!
Sweet faith-friend, please cling to this thought today when you're feeling less than perfect, prone to wander, and weary of the constant struggles:
Nothing is greater than the greatness of His generous grace!