Two years ago today, our family friend Joe Henderson called my mom to let her know that his dear wife, our friend Betty, was no longer suffering because of her heart disease. She was now with her Lord. When Mom shared the news with me, I excused myself for a while and headed upstairs to my office to grieve in the way that I knew best—through my writing. Below is the original blog post that resulted and which I shared that day. Her pastor later read this as part of her Celebration of Life Service, which my mother and I were unable to attend due to poor weather conditions in our area but which we watched, amid tears, via livestream. Today, Joe and I remember Betty, together, with great love for her and with gratitude for her life.
_______________________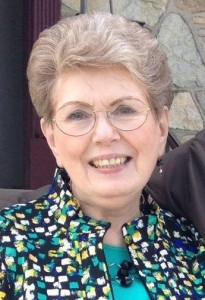 She had a bookshelf that held special treasures and favorite books, and she used it as a room divider in her small apartment, separating the sleeping area from the "living room." As we sat on the floor and ate popcorn out of plastic bowls that evening, which also left an indelible impression on my young mind, she told me about her boyfriend, and I was enthralled with her stories of their long-distance romance. I was ten years old, and she, in her late twenties, was my babysitter for the evening. During her daytime hours, she served as my father's secretary at the church.
That's when it began: life touching life; mentoring by example; soft-spoken, powerful leadership; the Titus 2 relationship of an older woman teaching a younger woman.
I was an elementary-aged child, but she wrote personal greetings in the fronts of the books she gave me—notes that reminded me that she was thinking of me, had chosen this book specifically for me, and that always included a Scripture verse or a promise straight out of the Bible.
I was a pre-teen, yet she chose me—me!—to be one of the guestbook attendants for the wedding ceremony when she married the boyfriend she had let me giggle with her about since that "girls' night" in her Indiana apartment.
I was a teen, but she wrote me postcards from the travels she enjoyed as she and her husband, an airline captain, saw sites I longed to someday see. She always signed her letters, her post cards, and her notes with, "Love, Betty." And I knew she meant it. She lived that love by her actions, her words, and her encouragement through both.
I was a young adult with the sorrow of a lost love, and she wrote me a most precious letter, focusing my thoughts heavenward and reminding me that my amazing God loved me with an everlasting love.
I was a writer with a dream, and she sent me a book that she did not know I wanted but that she knew I would enjoy, and she wrote in the front, "I hope this will encourage you in your own writing…because you can!" And I believed her.
I was a Sunday school teacher for the women in my church, and she mailed me a copy of her brand-new, hot-off-the-press Bible study for women. And yes, she included a handwritten note in the front, thanking me for being her friend. How overcome I was with gratitude. And how overwhelmed I was that she thanked me. But then, she always turned the attention to the other person—always.
I was a woman in my fifties and suddenly unemployed, questioning what God wanted me to learn, and she sent me cards filled with His promises, truths about His unfailing love, and a check to help me over the rough spots.
I was grieving my father's inevitable departure from this earth, and she sent me Facebook messages, cards, and loving notes with sweet memories that reminded me that a life lived for Christ leaves a thumbprint a mile wide. And in so doing, she shouldered my weary soul.
I was wiping away a tear at the dinner following my father's funeral and burial, and as she honored me by allowing me to sit next to her at the table, she simply reached in her purse, handed me a clean tissue, and said, in her sweet middle-Indiana drawl, "We love you, honey."
I was praying for her this morning to be healed from her ongoing medical struggles, and she was. She is now healed for eternity, with the Lord she loved, served, lived for, and died for.
My precious lifelong friend Betty Henderson left "forever lessons" in the hearts of hundreds, if not thousands, of people over the years. She would have been the first to have said that she wasn't special; she was just willing to say, "Whatever You want, Lord. I'll do it." And she did.
And I will miss her, but I will honor her by striving to honor our Lord as she did: with my desires, my words (written and spoken), and my life.