It's currently 85° in central Indiana, making it a perfect time to call a friend and say, "Come on over for a fresh summer salad!" However, in the spirit of honesty, the first friend I invited to enjoy this salad out our deck with me was my husband—mostly because I needed to get some pictures for this post! This is a great, no-fuss salad that probably seems too simple to need a recipe for, but my husband tells me that the dressing recipe alone is worth it all, and I think the arrangement of the ingredients is what makes this extra fun! So here you go!
But first, a disclaimer/explanation: I dislike salad dressings…all of them…and eat my salad "as is." That's probably why I always forget to buy salad dressing at the store and why I had to come up with a quick "stuff-I-already-have-on-hand" recipe of my own! So here's the biggest tip I have for you on this recipe: Whatever spices you use to marinate or grill your meat should be added to your dressing—the "marriage" of flavors across the meal is a very pleasant result!
"Come on Over" Salad (and Dressing)
Prep time: 30 minutes-ish
Cooking time (chicken): 25–30 minutes-ish
Serves: 2
From the kitchen of Brenda Henderson
1 red tomato, sliced and cubed
3 stalks of celery, sliced and cubed
10 mini carrots, sliced and cubed
1/3 cucumber, sliced and cubed
2 slices onion, sliced and cubed
1 clementine, sectioned, then sliced (approx. 3 slices per section)
Green leafy lettuce (approximately 3–4 large lettuce leaves per person)
2 boneless, skinless chicken breasts (marinated and seasoned to taste)
Directions (salad):
A few hours before cooking the chicken breasts, marinate them in the dressing recipe below by simply placing the chicken breasts in an airtight container and pouring the salad dressing over the top. Cover. Place the container in the refrigerator until ready to cook.
Prepare vegetables as described in the ingredient list. DO NOT MIX. These may be prepared ahead of time and kept cool in individual sandwich bags or airtight containers.
Thirty minutes prior to meal time,** cook chicken on stove top or on grill. (Approximately 10 minutes per side, using medium-high heat.)
Arrange all vegetables but the lettuce in small, separate mounds around the outside of each person's plate. Try to alternate colors to bring out the variety of colors used (see photo).
In the remaining open space at the center of the plate, shred or cut the lettuce to create a "bed" for the chicken.
Place grilled chicken in the center of the bed of lettuce and serve. (Note: You may serve the chicken breast whole or dice into half-inch squares for bite-sized pieces.) Guests may blend ingredients together and add their own dressing.
**You may wish to serve the chicken cold, in which case you may cook it ahead of time and cut it into half-inch squares to place on the bed of lettuce. (Cold chicken is best served in cubes rather than as a whole chicken breast.)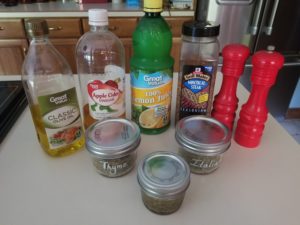 Ingredients (salad dressing for two people; duplicate recipe for marinade for two chicken breasts):
3 Tbsp olive oil
1 Tbsp apple cider vinegar
1 tsp lemon juice (fresh-squeezed or bottled)
NOTE: The remaining ingredients are the spices we enjoy. Feel free to substitute these with your own favorites!
1 tsp Montreal Steak Seasoning (optional, available at Sam's Club)
½ tsp Italian seasoning
½ tsp thyme
¼ tsp salt
¼ tsp black pepper
Directions (salad dressing and marinade):
Mix together duplicate recipes in separate glass jars or dressing cruets.
Pour one completed recipe over chicken breasts to marinate prior to cooking.
Serve the second completed recipe with salad at the meal. (For a fun twist, I like to place a one-serving recipe of this dressing in a mini "Mason Jar" and have it above the fork at each place setting.)
Happy entertaining!
__________________________
Be sure to watch for my next post, "My First Year As a Second Wife." I am sharing some of the joys and exciting transitions that God has entrusted to me these past (almost) nine months, and I encourage you to watch for this helpful, Joe-approved article!
Would you like to receive these posts in your Inbox? We won't spam you! You will only receive e-mails from us when a new post appears on the blog. Click here to subscribe.