In the spirit of absolute transparency, I confess that I have very little self-discipline when it comes to potato chips. And by very little, I mean none! So when my sister told me about making potato chips at home—in the microwave, no less—I decided that it just may allow me to indulge without feeling the need to keep snitching some on a daily basis until the bag is empty! As most of us do when we hear a new idea or recipe, I tweaked it until it worked best for our setting and our taste buds.
They're fun for kids of all ages to make, and they're so easy to fix that kids of all ages can make them! We've enjoyed them as a crispy side dish with grilled hamburgers, and tonight we're having them with pizza! These yummy chips make it easy to say, "Come on over"—for a snack or a meal!
"Come on Over" Potato Chips
Prep time: 5 minutes-ish per tray
Cooking time: 5–7 minutes-ish per tray
Serves: 2
From the kitchen of Brenda Henderson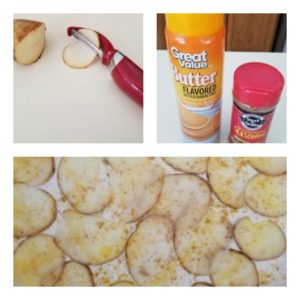 Ingredients:
2 medium potatoes for every 2–3 people
Cooking spray (flavor of your choosing)
Seasoning spices of your choosing (we like Steak and Shake's Seasoning Salt, which is similar to Lowry's)
Directions:
Slice the rounded tip off of one end of a washed and cleaned potato.
Using a potato peeler, "peel" horizontal slices of the potato (you should get about 25–30 slices ["chips"] per potato).
Lightly spray the cooking spray onto a flat plate or microwavable cooking dish.
Lay the slices on the flat plate or microwavable cooking dish. Do not overlap the slices. You will not get all of the slices from one potato on the first plate. It will take a few plates to complete both potatoes.
Once all the chips are arranged on the plate or dish, lightly spray them with the cooking spray and lightly season with the spice(s) of your choosing.
Depending on the wattage and power level of your microwave, you will cook the chips for 5-7 minutes. When they turn a golden brown, they are crispy and ready to remove from the microwave.
Lay the chips on a paper towel to cool—or eat them while they're warm!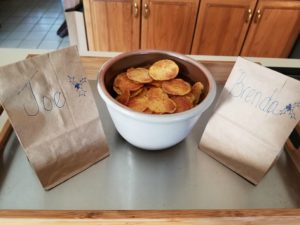 You can store them in a brown paper bag or even store individual servings in small paper bags. I've kept mine as long as four days this way, and they were just as crispy on day four as they were on day one!
(By the way, I tried doing sweet potatoes this way. They were awful and shrunk to mini little chips. Don't bother trying it. Just thank me for the warning!)
I'd love to hear how your chips turn out! I'm all but certain you'll enjoy them, and you'll be telling your friends, "Come on over for some homemade potato chips!"
Be sure to check back on Thursday for a blog post about what to say when visiting someone in the hospital. Thursday's post includes a quick and easy gift to take with you when you visit.
____________________________________
Would you like to receive these posts in your Inbox? We won't spam you!
You will only receive e-mails from us when a new post appears on the blog. Click here to subscribe.