My mom knows that I say this, because she says the same thing: my mom did not make good meatloaf when I was a child, so I grew up disliking it. Only recently did I learn to enjoy it, and after gathering tidbits of helpful hints from friends, tweaking various elements from multiple sources, and creating my own unique recipe, I can tell you that this is pretty much the favorite meal at our house! In fact, Tuesday night we had this very meal, and Joe (my husband, who previously was not a major meatloaf fan himself) said, "I think if there were a TV show named Meals to Die For, this recipe would win!" (Um…love him!) Additionally, he often says that I should sell the sauce by the gallon and basically states that he would buy every gallon! Now that, my friends, makes this a meal worth blogging about, worth making, and worth saying to friends, "Come on over for some seriously tasty meatloaf!"
So here's the point of this recipe: make it ahead in small loaf tins; freeze it; put it in the oven one hour before your meal (directly from the freezer), and enjoy a meal that you can serve to any age group at just about any time! Be sure to read the remainder of the blog post following the recipe. I share some serving ideas and entertaining thoughts to truly make this a crowd favorite!
"Come on Over" Mini Meatloaf
Prep time: 30 minutes-ish
Cooking time: 60–70 minutes, 350°
Serves: 8 (simply cut the recipe in half to make 4 Mini Meatloaves)
From the kitchen of Brenda Henderson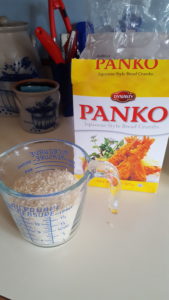 Ingredients:
Mini Meatloaf:
(Cooking spray to grease the loaf tins)
2 lbs. ground beef (80/20 or 90/10…it needs a little fat in it!)
2 ¼" slices of large onion, diced (optional)
1 ½ cup Panko (or use croutons, place in plastic bag, and crush with a rolling pin)
¼ cup ketchup
1 Tbsp yellow mustard
3 Tbsp brown sugar
1 Tbsp apple cider vinegar
1 Tbsp Worcestershire sauce
1 tsp salt
1 tsp black pepper
4 eggs
1 cup milk
Sauce (heat and drizzle over the Mini Meatloaves just prior to serving):
½ cup ketchup
2 Tbsp yellow mustard
¼ cup brown sugar
2 Tbsp apple cider vinegar
2 Tbsp Worcestershire sauce
1 tsp salt
1 tsp black pepper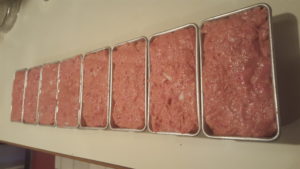 Directions:
Use cooking spray to lightly grease the sides and bottoms of eight miniature loaf tins (like those that are used for bread). In a large bowl, add the Mini Meatloaf ingredients in the order in which they appear on the Ingredients list above, using your hands and/or a large wooden spoon to thoroughly mix them together.
Divide the mixture evenly into eight oval "loaves" and place them in the miniature loaf tins, "tweaking" the shape so that they fit securely in the tins. Cover each tin securely with plastic wrap (such as Saran® Wrap) and place each of them in the freezer.
After the Mini Meatloaves are fully frozen (at least overnight), remove them from their tins and store them in an airtight container (I separate mine with waxed paper or parchment paper). DO NOT THAW BEFORE BAKING!
To bake: Place frozen loaves on a cookie sheet (evenly spaced for best results). Bake at 350°— 8 loaves, 70 minutes (1 hour, ten minutes); 4 loaves, 60 minutes (one hour). Remove from oven, plate the Mini Meatloaves (do this in the kitchen) on each guest's dinner plate, and drizzle with the heated sauce mixture. Optional: plate the side dishes as well and serve the entire meal "plated."
Meal Idea:
Our favorite side dish for this (official hat tip to our friends Terry and Diana for this one) is to serve a baked potato with the Mini Meatloaves. Using one potato per guest, place the potatoes on a cookie sheet; they cook the exact same time and at the exact same temperature as the Mini Meatloaves, making your before-the-meal preparations minimal. In fact, if space allows, you can bake them together on the same cookie sheet. Here's how I do my baked potatoes (though it is not original with her, my sister Karen receives the hat tip for sharing this one with me):
Wash potatoes.
Use a dinner fork to poke each potato in about 6–8 places around the potato.
Lightly spray the outside of the potato with cooking spray (or rub with vegetable oil or olive oil).
Sprinkle with coarse sea salt.
Bake on a cookie sheet for one hour at 350°.
(These are soooo good! Slightly crispy outside and perfectly done inside.)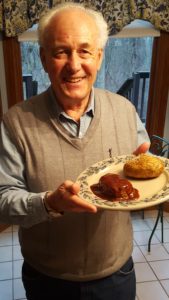 Optional toppings include: butter, sour cream, toppings (chives, bacon pieces, onion, crushed red pepper etc.), salt, and pepper. I recommend you keep it simple and only have a minimum of these options available on the dinner table.
Feel free to add a side salad, a small dish of applesauce, green beans, dinner rolls, or another side dish of your choosing. But always remember that simple is best. No more than three items on the plate is a great rule to follow!
Because this "down-home" meal is pretty filling, we generally pass a dish of miniature candy bars or a plate of cookies for dessert!
The wonderful thing about preparing the main course ahead of time (the Mini Meatloaves keep well in the freezer 4–6 weeks) is that it allows you to follow one of my most important rules for entertaining:
Spend more time with your guests than you spend in the kitchen!
__________________________
Petals from the Basket is a devotional blog that provides ideas and resources for everyday Christian living. I haven't forgotten that! Joe and I have both been uncommonly sick in these first months of 2017 and between that and travel to visit family members, we've been a little negligent in keeping the blog posts consistent with our desired timing! Our general schedule goal is to post one or two devotional blogs a week and to include a "Come on Over" recipe idea on Thursdays. We know you have thousands of blog options to choose from, so we thank you for joining us at Petals from the Basket and hope that you'll consider reading our posts here on a regular basis!