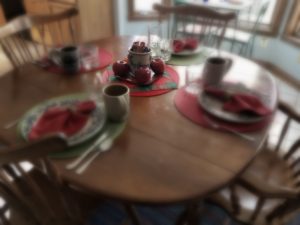 It's either an obsession or a display of wisdom—I'm not sure which. But when I clear the table from one meal, I generally go ahead and set it for the next meal. This began because Sunday mornings inevitably seemed to be rushed, and if I could come downstairs and enter the eating area with one task already completed, I felt like the day was off to an orderly start. So I started setting the table in our little breakfast nook to prepare it for the next morning. That soon spilled over to the table where we eat our other meals and even into the dining room, the location where we share dinners with guests.
We currently have guests staying overnight in our Christmas Room (the name of our guest room, because it is decorated for Christmas year round). I want their mornings to be quick and easy so that they can head over to be with their family members in town, so as soon as we all finished breakfast this morning, Joe helped me set the table for tomorrow's breakfast for four.
I walked back into the kitchen a few moments ago, and tears began making their way down my cheeks. I was overwhelmed by the simple fact that we know that, Lord willing, tomorrow morning we will have food to eat, a nicely decorated table at which to sit, and a warm home in which to do it. How many people around the world and even here in the US don't know that. In fact, some dear woman my age may be wondering if she should have eaten the last clementine she found by the side of the road, because now she doesn't know if there will be anything to eat for supper—let alone, breakfast tomorrow.
There's no doubt about it. We are blessed. Not because of where we live, who we are, what we do, or what we have.
We are blessed because of God's grace and mercy to us. And He rightfully expects us to steward those gifts well and to express gratitude to Him for them. The psalmist did this extremely well in Psalm 103:2–5 (ESV):
Bless the Lord, O my soul, and forget not all his benefits,
who forgives all your iniquity, who heals all your diseases,
who redeems your life from the pit, who crowns you with steadfast love and mercy,
who satisfies you with good so that your youth is renewed like the eagle's.
____________________
As you're online to do your Christmas shopping,
remember to stop by Amazon.com (or click the title below)
to purchase your copy/copies of Brenda's Bible study for women:
Choosing to Change when Change Happens
Would you like to receive these posts in your Inbox? We won't spam you!
You will only receive e-mails from us when a new post appears on the blog. Click here to subscribe.