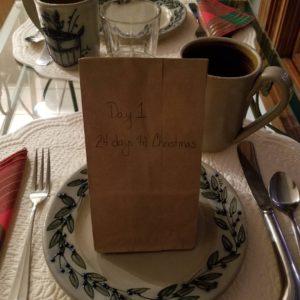 No, I probably won't be posting daily. You're welcome. But yes, I—rather, we—will be sharing occasional pre-Christmas-related posts, including some of our favorite new gift-giving ideas (which include our new favorite books)!
Did you ever have an Advent Calendar? I still remember a dear lady in our church, "Grandma" Pauline, giving me one of those pictures of a Christmas scene with numbers printed on little openable "windows." I would open the various windows, revealing a pre-printed message of joy for the holiday. As I recall, I could hardly wait to run downstairs each morning and open the next window for that day's message!
Since that time, I've secretly wished to have a little countdown picture for my wall. Since I felt a little silly getting one, I passed by them in the store. Now, however, there are fun ways to create your own Advent Calendar or Countdown to Christmas. Pinterest is loaded with ideas from the more difficult to the super easy, and I've pinned (collected) several ideas on my Christmas board. Many of those are for parents and children, and to be honest, I'm a bit too lazy to saw tree limbs, paint them with chalkboard paint, drill a hole in them, stain a board to hang them on, hammer in hooks for them to hang on, and then think of what to write on them! (Ha-ha!)
Joe and I are trying to focus on experiences rather than accumulating more stuff this year, so I decided to create some fun memories with simple everyday experiences while fulfilling my desire to have a Countdown to Christmas! So this morning, Joe's breakfast plate had a simple, small, brown paper bag that contained a handwritten note. Along with a few mushy-gushy-heartfelt words of admiration, I included a gift of designated time to read out loud to him from a new book we've just started reading. Tonight's "reading" will take place by the fireplace and the Christmas tree.
Simple. Free. Special.
Oh. And here's what we're reading: The Song of Sadie Sparrow, written by a dear friend and probably one of my greatest mentors and encouragers in editing and writing, Kitty Foth-Regner. We are loving it so far!
Suggested Scripture reading in the Countdown to Christmas: Luke 1 (or listen to it here via BibleGateway.com)
Luke has 24 chapters. Even though some are QUITE long, I love to read the 24 chapters of Luke on the days leading up to Christmas and then re-read Luke 2 on Christmas day!
____________________________
Would you like to receive these posts in your Inbox? We won't spam you!
You will only receive e-mails from us when a new post appears on the blog. Click here to subscribe.