Okay, so I've always been honest with you. Really honest. So I'm warning you from the start that this is not your average, everyday "recipe." In fact, this week's "Come on Over" recipe for entertaining and meal ideas was supposed to be for a yummy summer salad and my own homemade dressing. That recipe will wait for a future blog post. This one…well, I need to share it with you right away. You can thank me later!
This week's recipe is not edible. Nor is it original with me. In fact, there are literally thousands of DIY recipes online for this concoction. I heard about it from a relative whose office staff utilizes it, and I simply had to try it after hearing about its "effectiveness!" Let me just cut to the chase on this one, because there is no simple way to further procrastinate discussing this or sharing this any longer.
When you say to someone, "Come on over," whether it's for a meal, a yummy snack, a dessert, or all of the above, he or she will most likely need to make a little trip to use the facilities available in the restroom in your home. And well, sometimes, things happen, and—well, odors linger. [Oh my heart, my mother is going to blush at the very thought of my discussing this in a blog post! I know this because I am already blushing as I simply type the words!] As a gracious hostess whose desire is to make her guests feel comfortable and relaxed, you want to have "preventative" sprays, candles, or other good-fragrance-making tools readily available to help your guests avoid embarrassment.
The original product on which today's recipe is based is undoubtedly the best there is. It's called Poo-Pourri Before-You-Go Toilet Spray. It's available on their website or via Amazon, here. Compared to other sprays, it's not horribly expensive, so you may want to avoid the homemade version and just order yours online. However, here's the simple, inexpensive recipe for making your own:
"Come on Over" Bathroom Spray
Compiled from Other Suggested Recipes and Shared by Brenda Henderson
Items and Ingredients:
1 small spray bottle ($1.00 at the Dollar Tree)
22 drops of the essential oil of your choice (ex., Thieves, Wild Orange, Lavender, etc.)
2 TBSP rubbing alcohol
Distilled water
Optional: mini chalkboard; chalk pen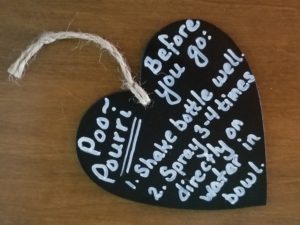 Directions:
Drop 22 drops of the essential oil of your choice into the spray bottle.
Add 2 TBSP rubbing alcohol.
Gently swirl open bottle to mix well.
Fill almost to top with distilled water. (I use the water from the dispenser on our refrigerator door.)
Place cap on bottle and shake well. (When it's mixed well, it's "cloudy.")
Optional: Make a mini chalkboard sign to explain how to use it. You could just as easily print the "directions" out on a piece of paper and frame them in a cute decorative frame to set next to the spray bottle.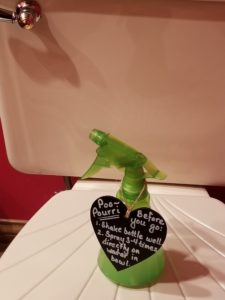 Basically, before you "use the facilities," you spray the mixture about three or four times directly onto the water in the bowl. When you've completed the "task," you're done, with no lingering odors or harsh fumes to announce that you were there! We set ours directly on the lid so that people will be able to see it (and use it) before it's too late.
So there you have it: your very own DIY version of Poo-Pourri®!
You're welcome.
Now…let's change the subject. And please, please, please come back to Petals from the Basket in the future for truly devotional blog posts and for some honest-to-goodness delicious "Come on Over" recipes!